Bronze Pelican Adult Religious Award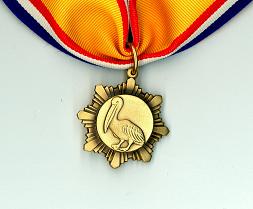 The Bronze Pelican is used to recognize individuals in our local diocese for their significant contributions to Catholic Scouting.
In Ancient times, bronze was the strongest metal known. Therefore, we use this to symbolize the spiritual strength of the men and women who receive this award.
There is a legend that, in times of famine, the pelican fed her young with her own blood. With her wings extended over the little birds in the nest, she tore a hole in her breast so the drops of blood came out to feed her young.
The early Christians saw in this legend a symbol of Christ's act of love upon the cross. God's love is sacrificial, external and dependable.
So recipients of the Bronze Pelican award realize that they are to be useful and faithful instruments of Christ. They endeavor to develop in a boy or girl the awareness of God's presence in all scouting activities.
It is through these persons, who give of their time to counsel, to lead, and to train young people to be better Christian citizens, that we can provide a greater Christian content to scouting.
The Bronze Pelican is not an official National Catholic Committee on Scouting® award.
The purpose of the adult recognition programs is to recognize the recipient's outstanding contribution to the spiritual development of the Catholic Youth in the program of the Boy Scouts of America.
If you have someone you would like to nominate complete the application for the awardhttp://archcincyccos.org/wp-content/uploads/2021/01/Adult-Nomination-Form-2020-02-10.pdf and return it to the Catholic Committee by January 15th.
Applications are accepted throughout the year. Nomination applications are reviewed annually toward the end of January. Nominations received by February 1st will be reviewed and notification of approval or deferment will be given to the person who submitted the candidate by approximately February 1st.